Snookball set size 3
Size 3 , ball circumference 60 - 61 cm.
Diameter = 19.4 cm.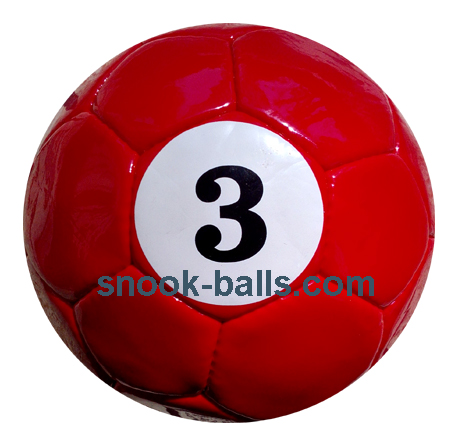 Email us at info@snook-balls.com
Snookball
are available in stock and will be shipped immediately. Express shipping is also available on extra charges. Please email us your choice of shipping so we adjust the price accordingly. Snookball Wooden triangle is also availabe seprately.
Billiard soccer Tables are also available. Place your order now. Snookball Tables coming soon.
Billiard soccer table walls and surface are portable suitable for indoor and outdoor play. walls and surface are available separtaely to accomodate your budget and requirements.
Billiard Soccer Ball size 3

Custom Logo can printed on cue ball for additional charge. Snookballs are made of artificial leather with layers of cotton polyester .
size 5, hand stitched snook ball are fitted with latex bladder. We are manufacturing company offering Snookball Balls direct from the manufacturer.We hold in stock ready for same day dispatch!
Set of 16 snookballs good quality
Snookball set include the white cue ball and black ball
snookball set is also available in match quality at an extra price.
snookballs are shipped with economical or express shipping as per buyer's choice in order to save shipping charges for our valued clients. Snookball are deliver at your given address without any hassale.
Snookball is mixture of of 8-ball pool with soccer skills. This spolrt is also known as poolball, Footpool or Soccer Billiards, Footsnook Football Pool in different parts of the world. Snookball is perfect for Perfect for night club parties, fund raising events, barmitzvahs corporate parties and off course fun time in your backyard on sundays.